Made for Fashion pairs leading fashion designers and makeup artists for a candid conversation about creativity, collaboration and catwalks
The Blonds is a brand that's beloved for near-hedonistic levels of excess. Phillipe and David Blond—the flaxen-haired pair behind the made-to-order label that launched in 2008—could be called the Liberaces of the fashion-sphere, where they live to put on the glitz: from sequins and spikes to chains and feathers – along with every colour and size of rhinestones, crystals and jewels imaginable. Never ones for understatement, this over-the-top design duo is a walking superlative, with bespoke garments that are the wildest, grandest and flashiest of them all. Such a soft spot for sparkles has naturally garnered them a superstar client base that includes Lady Gaga, Rihanna, Katy Perry and Beyoncé.
Perfecting the look of The Blonds' signature glamazons year after year is makeup maestro Kabuki, who is adored for his own unique penchant for flash and flair. Known for his heady days as a vanguard club kid and his talents working with nearly every celebrity mentioned above (including others such as Madonna and Michael Jackson), Kabuki went on to add flourishes to the faces of The Blonds in 2010. Since that first collaboration, this power trio has set the bar for the spectacle that is panache. Here, Kabuki, Phillipe and David share how their lives first intertwined, their love of superheroes and their indulgence in extravagance.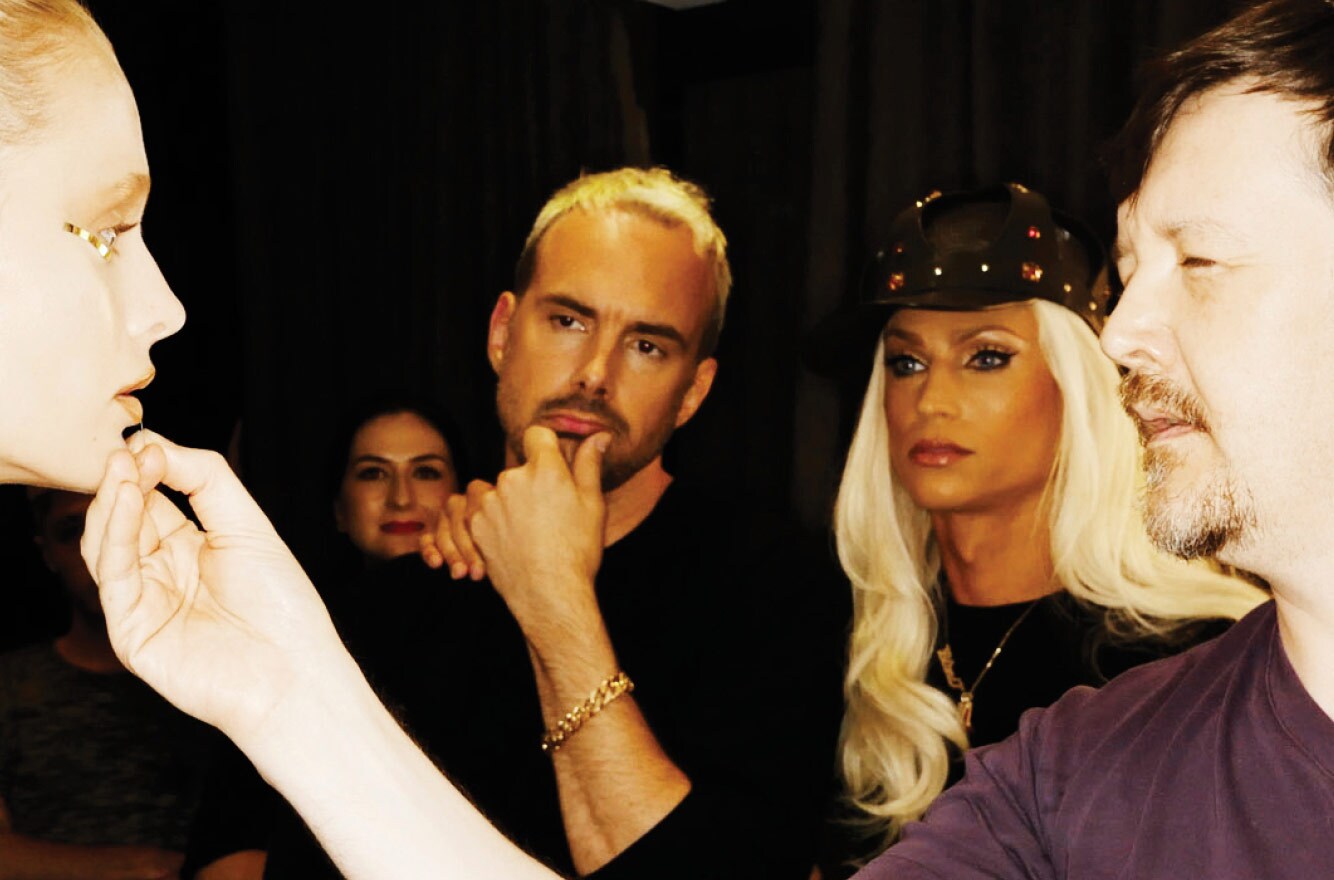 Kabuki: I was familiar with The Blonds' clothes from many editorial shoots I had worked on. I remember being a little afraid of meeting them the first time because their image is larger than life…you know: THE BLONDS! It can be a bit intimidating. When I met them, they were total sweethearts. I guess I was expecting divas.
Phillipe: Really? I was afraid! Kabuki worked on editorials with every single celebrity. David and I have admired him always. His work is so beautiful.
David: We loved the way Kabuki expressed himself through makeup even before he became a famous makeup artist. It's incredible—all this creative energy and how artistic and detail-oriented Kabuki is.
Kabuki: That's one of the things I admire so much about you both – the perfection of the details and your storytelling. Their collections are so personal; you get drawn into the details. When I used to doll myself up and express myself in the club scene before I became a professional makeup artist, it was a similar process where it became very personal to me, spending a lot of time making myself up.
David: Not everyone goes to that extent, and that's why I think we relate to one another. There's this same idea of this layering of everything.
"It's purposeful, everything has a reason and there's a story. The beauty is just an extension of this story we're trying to tell." - David Blond
Kabuki: I first did The Blonds show in 2010. I had to turn down some jobs with Lady Gaga because of my fashion week commitments. Ironically, I got the call for The Blonds, because their previous makeup artist had some jobs with…Lady Gaga. I worked with Lady Gaga recently – I think she forgives me.
Phillipe: Over the years, I think our relationship has grown into a more theatrical experience. As designers, we have a vision and an idea for a story, Kabuki tailors it, becoming what it should be.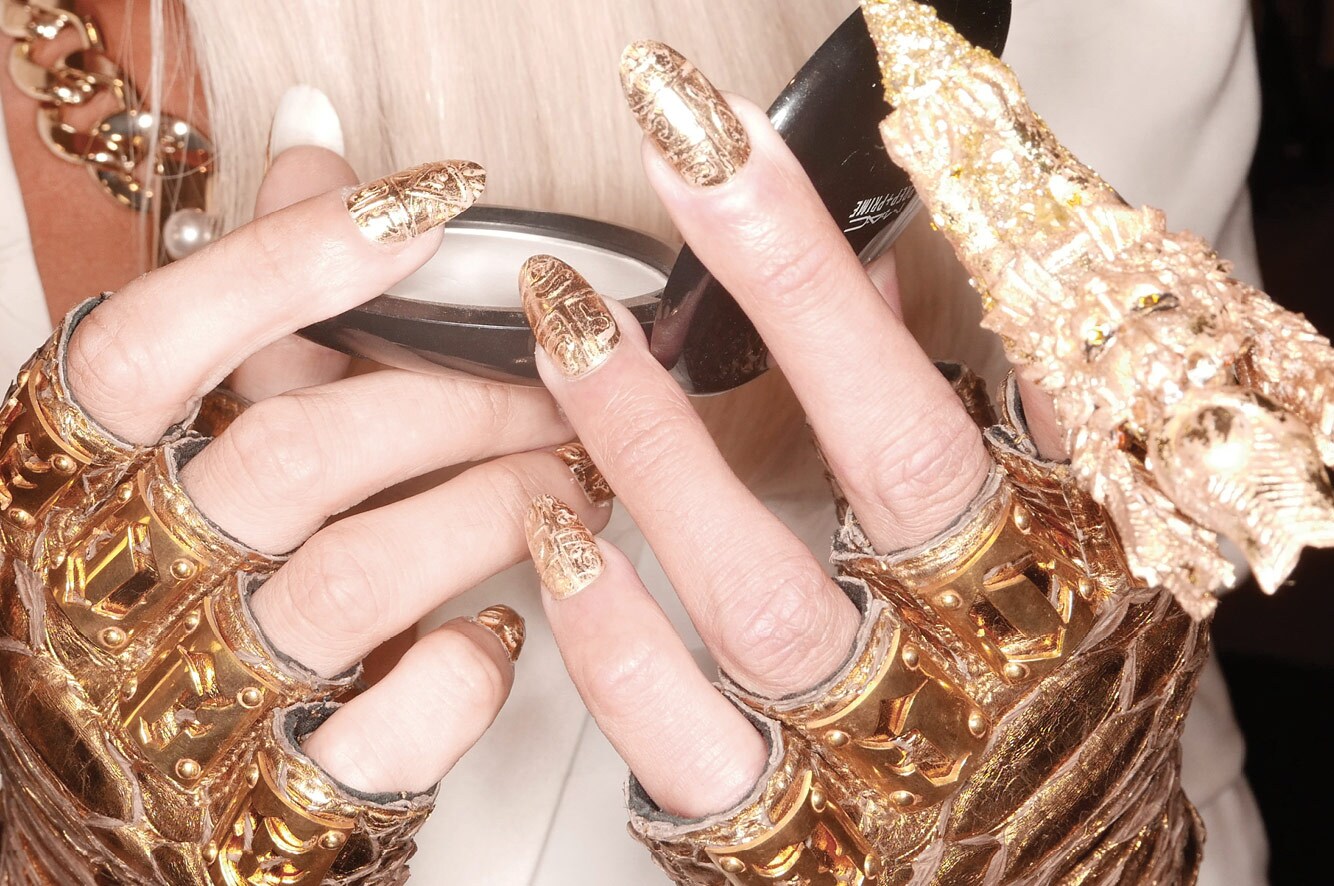 Kabuki: I have a way of explaining our process. It's like a pyramid. We start at a very wide base and then eventually it all comes up to a point. The pinnacle of the show is when the models start going down the runway. That's the point of no return!
Phillipe: I couldn't explain it better than Kabuki because it's so true. There's that moment where you see it all come together from sketches to real ideas, and then you know that Kabuki is going to take it where it needs to go.
Kabuki: Thank you. It's my goal to maintain that passion you put into the collections and all of the makeup artists on the fashion week team feel that way too. They're always excited to work on this show. I think a lot of that positive energy comes from the wit that you infuse into the glamour.
David: I think it's important to have a little bit of a sense of humour. And beyond that, we mainly come from a place where we love film. That's one of our main sources of inspiration. It all started with that old Hollywood glamour ideal of anyone from Marlene Dietrich to Marilyn Monroe and Mae West to Jean Harlow—that's where The Blonds were born.
Phillipe: Also superheroes. Oh my god, we love superheroes! She-Ra, Storm—all of them….
David: We're always about strong, brazen, unapologetic women.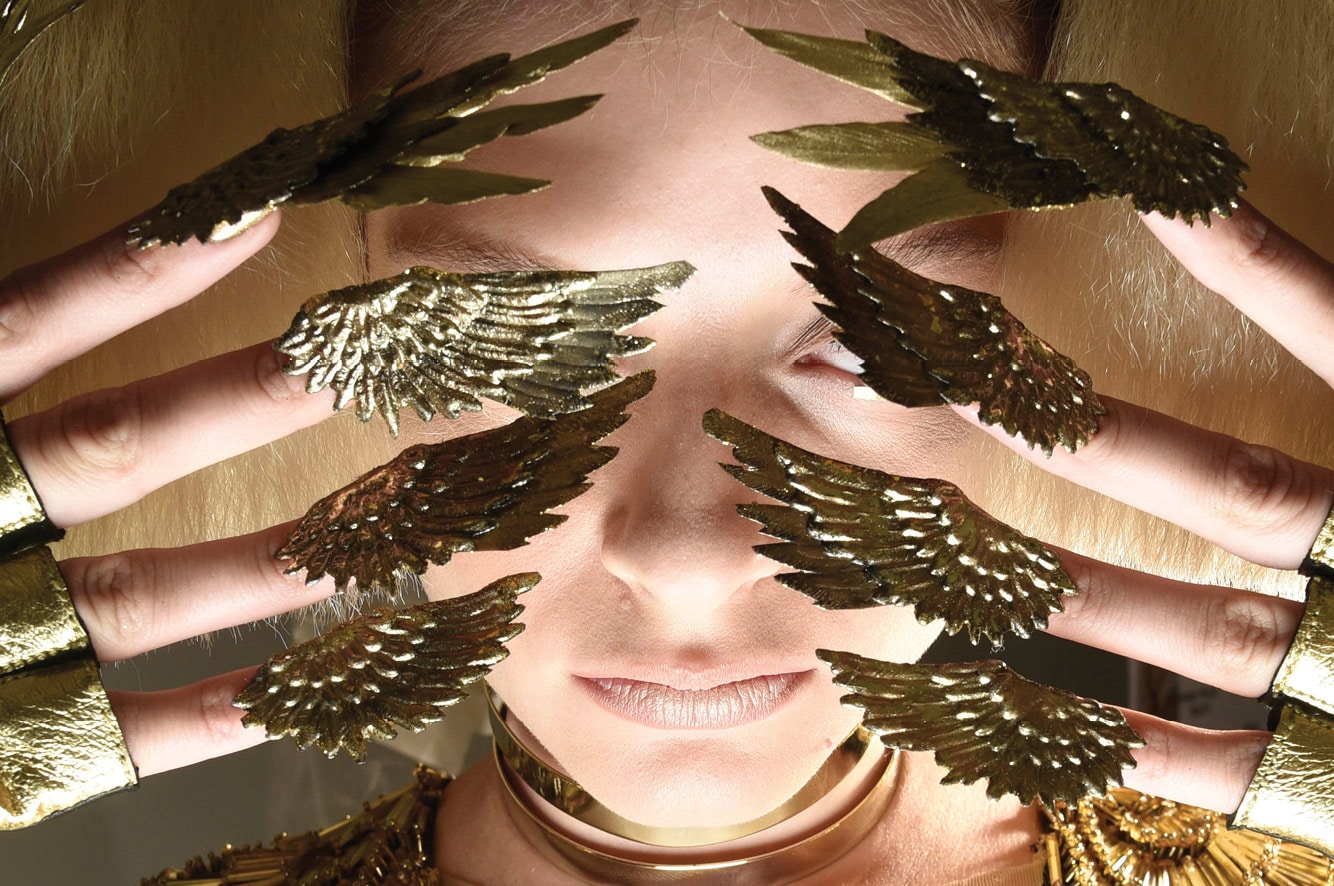 Kabuki: I do remember spinning around in my bedroom when Wonder Woman was first airing in England as a 7-year-old. I just want to keep up to The Blonds' standard, really, because they do all the work and I just put the cherry on the sundae. Or a lot of cherries and some sprinkles!
Phillipe: Working with Kabuki is like a tattoo. When you do a show, it's with you forever and ever. The makeup becomes a part of that look as much as everything else.
Kabuki: Overall, I'd say our look is feline. It's fantasy – transformative fantasy. There's an emotion being created – an excitement.
Phillipe: The girls have to have adrenaline because we put them through so much. They have to be really strong. That's why we use a lot of the same girls every season because they know what they're getting into: the heels, the corset, the hair, the makeup—they love it.
Kabuki: The looks bring something out of them, really resonating within them.
David: Oh, they really change. I notice that—from fitting to the final look, the girls' personalities change. It's not like the outfits are wearing them or we're forcing them into these looks, but they're able to visualize themselves in a different way.
Kabuki: It's quite empowering.
Phillipe: We definitely like to put on a show. We believe if we're going to be at Fashion Week, we might as well put on a big show and give everyone something to remember, season after season. No holds barred! More is more!